05 December 2018
Designing things with spending power (Inverness and live
online)
Price: Free
Designing things with spending power
Design Informatics Seminar by Professor Chris Speed 
What happens when we give physical things wallets containing digital currencies? How can this alter power relationships and shift social dynamics? Chris Speed will explore these questions by highlighting the use of smart contracts in design, from a coffee machine that lets you vote for your coffee bean and pays those who clean it, to a hairdryer that trades on the energy market to offer the best price for drying your hair. As objects are connected to the Internet, forming the 'Internet of Things', Chris asks what happens when technologies are given their own spending power, and what this implies for the human.
About Chris Speed
Chris Speed is Chair of Design Informatics at the University of Edinburgh where his research focuses upon the Network Society, Interaction Design, and The Internet of Things. At present Chris is working on funded projects that include coffee cups as cryptocurrencies, internet of toilet roll holders, and an argument that chickens are actually robots. Chris co-directs the Centre for Design Informatics Research that is home to a combination of researchers working across the fields of interaction design, temporal design, anthropology, software engineering and smart contracts, as well as PhD, MA/MFA and MSc and Advanced MSc programmes. 
Arrive 12:30 for light lunch. The session will start with lunch and informal networking followed an informal talk and finishing by 14:30.
Can't make it in person? Register to watch online and you can watch live, or use the link to watch-again later.
The session will take place at #hellodigital within An Lochran, 10 Inverness Campus. Accessible car parking is available to the rear of An Lòchran.
#hellodigital was launched by HIE with aim of supporting enterprises to make the most of digital opportunities in how they promote and operate their business.
This event is organised and supported by Highlands and Islands Enterprise, the Scottish Government's economic and community development agency for the Highlands and Islands of Scotland. Find out more at www.hie.co.uk
When
05 December 2018 12:30 - 14:30
Where
#hellodigital - 10 Inverness Campus
Book Now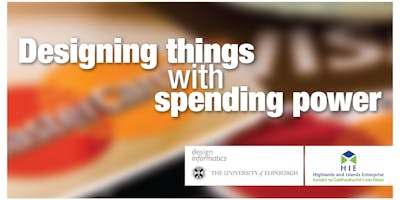 ---