01 October 2018
Industry 4.0: Case
Studies
Price: Free
Hosted by HIE, this event brings together a practical look at what Industry 4.0 means with case studies and practical advice. Contributors to this event include:
Agenda: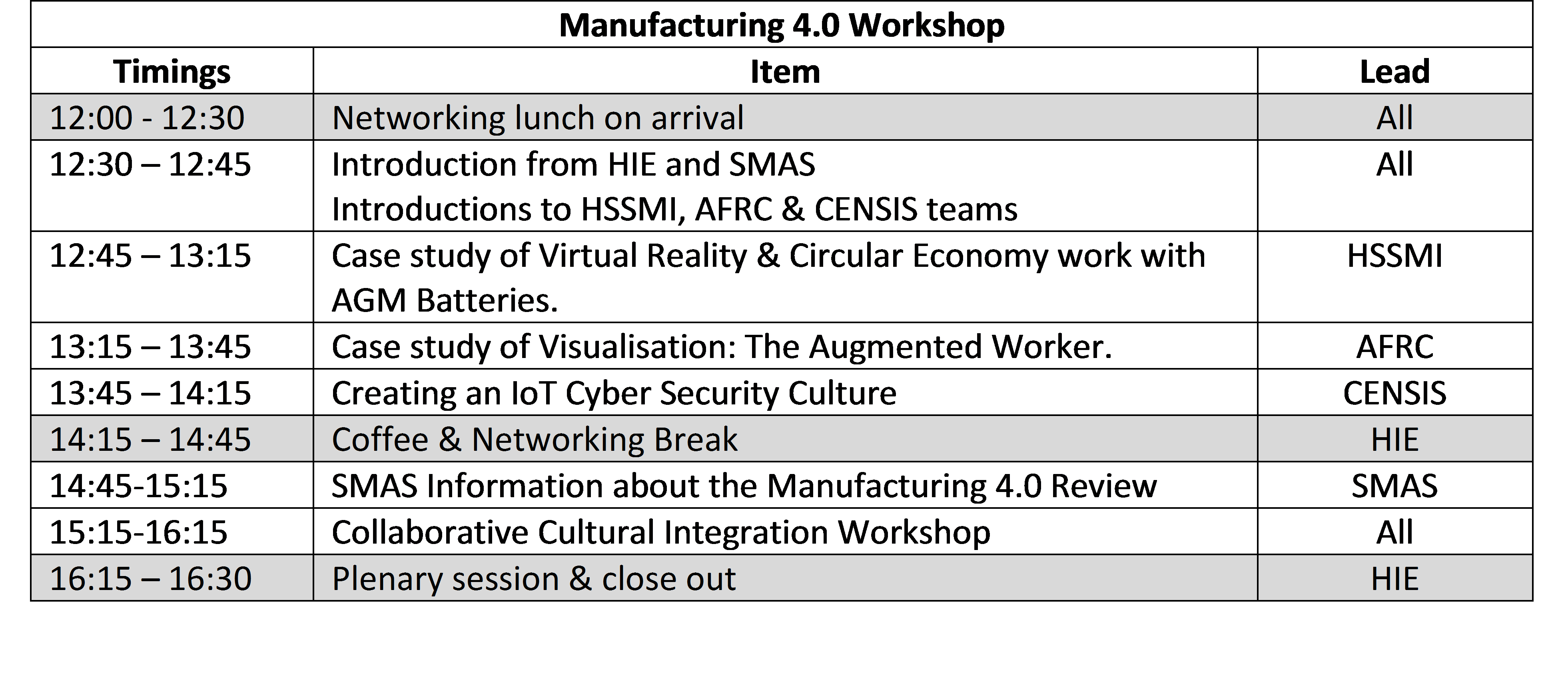 Each case study will last 30 minutes, 20-25 minute presentation with 5-10 minutes of questions and answers. The case studies that will be covered include:
AGM Batteries Case Study: A discussion on the benefits of the use of Virtual Reality as a marketing tool for remote companies, as well as the benefits and applications of circular economy in the supply chain and how this relates to Manufacturing 4.0 principles and techniques.
The Augmented Worker: An introduction to the Innovate UK project which aims to develop software platform which will allow construction companies to push and pull BIM data to and from a range of VR and AR tools. Delivered by David Grant, Digital Manufacturing Engineer and AFRC Project Lead.
Creating an IoT security culture (CENSIS): Achieving cybersecurity throughout the manufacturing process will require both organisational and technological changes. A signature of IoT is pervasive connectivity. Hand in hand should come pervasive security too but less than 20% of businesses deploying IoT today understand the risks and how to manage these. Achieving secure IoT is not business as usual. Instead it is an opportunity for employees to gain new skills,

new powers and 

take on new roles. 
After the break, there will be two practical sessions:
Practictioners from the Scottish Manufacturing Advisory Service (SMAS) will share information about a new Manufacturing 4.0 (M4.0) Review service. The M4.0 review is a structured approach that consists of a Day 1 Diagnostic Review Workshop and a Day 2 Road-mapping Workshop facilitated by technical experts. The Review output is a tailored strategy that provides a framework for your business to focus carefully considered investment decisions.
A Cultural Integration workshop: Co-led workshop delivered by HSSMI, AFRC and CENSIS on the impact of Manufacturing 4.0, covering Leadership, People, Culture, Skills/Training, Business Strategy and Customer & Markets. This will be delivered through group discussion, small working groups and interactive discussions utilising the experience of HSSMI, AFRC and CENSIS in the wider theme of Manufacturing 4.0. The aim is to provide the companies present with a better understanding of the "softer" side of Manufacturing 4.0, as well as how its application and development can enhance business offerings and the performance of the supply chain and wider area. 
The session will take place at #hellodigital within An Lochran, 10 Inverness Campus. Accessible car parking is available to the rear of An Lòchran.
#hellodigital was launched by HIE with aim of supporting enterprises to make the most of digital opportunities in how they promote and operate their business.
This event is organised and supported by Highlands and Islands Enterprise, the Scottish Government's economic and community development agency for the Highlands and Islands of Scotland. Find out more at www.hie.co.uk
When
01 October 2018 12:00 - 16:30
Where
#hellodigital - 10 Inverness Campus
Book Now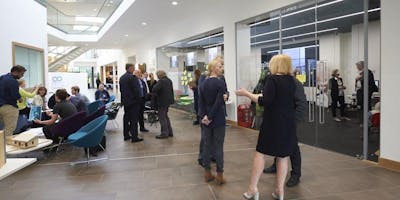 ---