07 November 2018
Industry 4.0: Visualisation, AR, VR and Industrial
IoT
Price: Free
This full-day workshop will cover:
Visualisation Case Study – Augmented Worker

Industrial IoT – Manufacturing Industry Digital Innovation Hubs

Manufacturing 4.0 – TechnipFMC SE Case Study

Lunch break and Technology demonstrations

Case Study – HVMC Visualisation and VR Forum

Facilitated Round Table on Manufacturing 4.0 diagnostic tool


This event will be delivered by the Advanced Forming Research Centre (AFRC) and hosted by Highlands and Islands Enterprise (HIE).
The AFRC is a globally-recognised centre of excellence in innovative manufacturing technologies, R&D, and metal forming and forging research. The Digital Manufacturing team at the AFRC has a remit to support Scottish companies with overcoming the challenges presented by the adoption of Manufacturing 4.0.
The workshop will be structured in a way that encourages interactive discussion around the demonstration equipment that will be on display. 
The session will take place at #hellodigital within An Lochran, 10 Inverness Campus. Accessible car parking is available to the rear of An Lòchran.
#hellodigital was launched by HIE with aim of supporting enterprises to make the most of digital opportunities in how they promote and operate their business.
This event is organised and supported by Highlands and Islands Enterprise, the Scottish Government's economic and community development agency for the Highlands and Islands of Scotland. Find out more at www.hie.co.uk
When
07 November 2018 09:30 - 16:30
Where
#hellodigital - 10 Inverness Campus
Book Now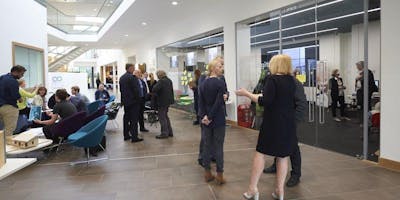 ---