07 November 2018
Visualisation, AR, VR and the fourth Industrial
Revolution
Price: Free
Virtual and Augmented Reality (VR and AR) technologies have seen major investment from technology companies such as Microsoft, Facebook and HTC over the past 24 months with their primary use cases being identified within the gaming and retail sector. During this period the High Value Manufacturing Catapult (HVMC) and the Advanced Forming Research Centre (AFRC) have been working with companies in the heavy engineering, construction and rail sectors to better understand how these novel technologies can boost productivity, empower the workforce and help companies in the manufacturing sector reduce risk and save time.
Another emerging technology that the HVMC and AFRC have been working with in this space is the Industrial Internet of Things (IIoT). This is where low cost sensors and communication equipment can be retrofitted to legacy assets to help the owners better understand it's operating conditions and performance. The combination of the two above technologies (AR/VR & IIoT) will result in the development of a monitoring Digital Twin which can be used to help communicate how a specific asset is performing in an easy to understand manner.
Guest speakers from the HVMC and AFRC, along with several of their collaborators, will look to describe how the above technologies have been deployed in their manufacturing site. It is hoped that through a combination of case studies and physical demonstrations the Highlands and Islands engineering and manufacturing community will be able to describe the unique set of challenges that they face so that the HVMC, AFRC, HIE and SMAS can tailor their support accordingly. 
This full-day workshop will cover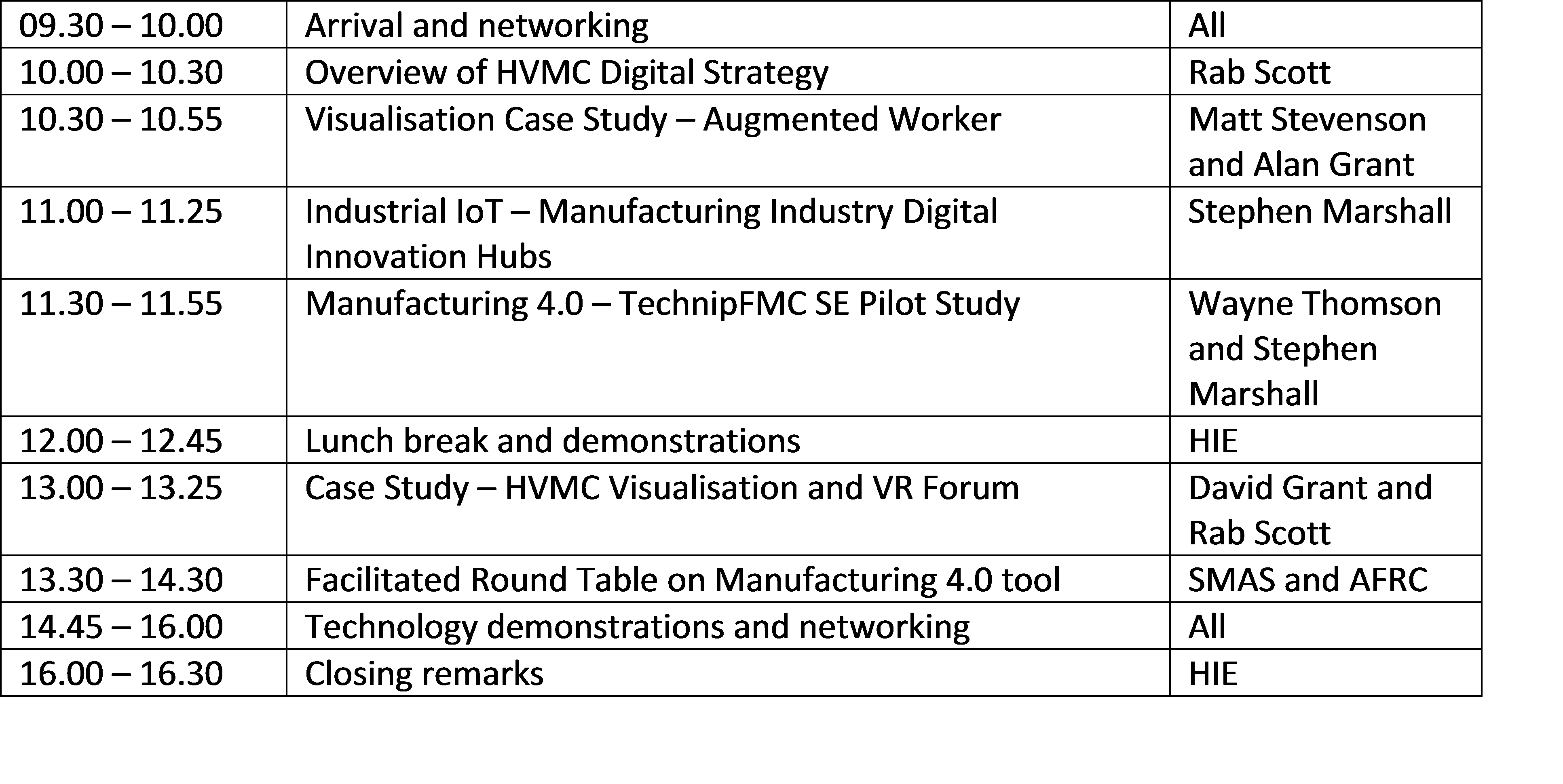 The workshop will be structured in a way that encourages interactive discussion around the demonstration equipment that will be on display. This event will be delivered by the Advanced Forming Research Centre (AFRC) and hosted by Highlands and Islands Enterprise (HIE) and supported by the Scottish Manufacturing Advisory Service (SMAS). 
The AFRC is a globally-recognised centre of excellence in innovative manufacturing technologies, R&D, and metal forming and forging research. The Digital Manufacturing team at the AFRC has a remit to support Scottish companies with overcoming the challenges presented by the adoption of Manufacturing 4.0.
The SMAS work with companies of all sizes to help them plot a course to take advantage of rapid advances in digital technologies.  We support businesses to make carefully considered investment decisions to scale up output, maximise margins and deliver performance and value to customers.  
Guest speakers include:
David Grant is a Digital Manufacturing Engineer for the AFRC and HVMC. David is the AFRC's theme lead for advanced visualisation and is their knowledge expert for Virtual and Augmented Reality technologies. David has a degree in Product Design and around 6 years' experience working in the Oil & Gas and Heavy Engineering industries prior to joining the AFRC. His responsibilities include the integration of visualisation technologies and the development of visualisation enabled applications which have specific manufacturing use cases. This is done by working with a small team of software and game developers.
Stephen Marshall is a skilled knowledge exchange professional with more than 15 years' experience acquired through a series of business development and commercialisation roles at the universities of Glasgow and Strathclyde. He is a founder member of the AFRC's Digital Manufacturing Team and theme lead for Connectivity. His role involves raising awareness of the benefits of digital manufacturing technologies amongst Scottish manufacturing SMEs and supply chains, demonstrating available technologies and solutions, and providing links into appropriate support networks. He is also a member of the project coordination committee for the EU-funded MIDIH (Manufacturing Industry Digital Innovation Hubs) initiative and currently serves as the AFRC representative on the HVMC Digital Manufacturing Forum.

Rab Scott is Head of Digital at the University of Sheffield's Advanced Manufacturing Research Centre (AMRC). He has been a member of the AMRC staff since its beginning in 2001, initially heading up the Virtual Reality and Simulation activities and now leading on the strategic development and implementation of digital solutions across the whole organisation. Rab sits on the High Value Manufacturing Catapult's Digital Strategy Team and their VR & Visualisation Forum. He also sits on the Steering Committee of Immerse UK, the UK's body for immersive technologies. He sits on the IET IT and Communications Sector Executive and is their spokesperson for virtual reality. He has recently been made a Visiting Professor at the University of Strathclyde.
The session will take place at #hellodigital within An Lochran, 10 Inverness Campus. Accessible car parking is available to the rear of An Lòchran.
#hellodigital was launched by HIE with aim of supporting enterprises to make the most of digital opportunities in how they promote and operate their business.
This event is organised and supported by Highlands and Islands Enterprise, the Scottish Government's economic and community development agency for the Highlands and Islands of Scotland. Find out more at www.hie.co.uk
When
07 November 2018 09:30 - 16:30
Where
#hellodigital - 10 Inverness Campus
Book Now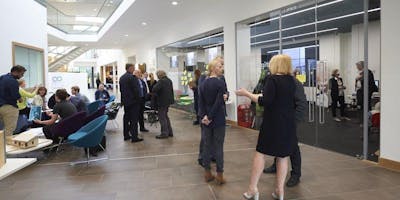 ---