30 October 2017
Digital Marketing Accelerator (Kirkwall,
Orkney)
Price: Free
This half-day digital marketing accelerator aims to 'fast-track' your knowledge. This hands-on course will give you a thorough understanding of how digital marketing can be used effectively and provide a set of tools and techniques that you'll be able to take away and use immediately.
After the initial session, you have the opportunity to continue your learning for a further 6 months with:
• Access to a full library of online training courses and certification
• 6 live webinars to improve your skills in Analytics, Content Marketing, Email Marketing, PPC/Online Advertising, SEO, Social Media (details to follow)
Eligibility: This course is open to all HIE clients only.
Who should attend
This hands-on course is aimed at any HIE client wanting to improve their digital skills and build holistic knowledge of how to get the most from digital marketing. It is suitable for newcomers to the topic or those with some practical experience who want to improve their skills.

Summary
As well as covering each of the different digital channels and best practice for their use, the course will also cover strategic planning and the effective use of data and analytics for calculating ROI. 
Using practical examples from relevant organisations throughout, and giving you the opportunity to try out various tools and techniques, the course will take a real hands-on and practical approach. You will be provided with a full set of support materials, including a digital marketing toolkit that documents all of the tools discussed and a range of blogs, podcasts and videos to reinforce your learning.
Course Outline
• Digital marketing in perspective
• Understanding the user journey
• The role of content
• Search optimisation step-by-step
• Paid search
• Social media in practice
• Display and paid media
• Email marketing best practice
• Using analytics to optimise campaigns
About Daniel Rowles
Daniel has been working in digital marketing for the past 19 years, with extensive experience working both client-side and within the agency environment. He is a Course Director for the Chartered Institute for Marketing (CIM), an award-winning author, and a lecturer at Imperial College and Cranfield School of Management. Daniel has helped organisations of all types to use digital marketing effectively, working with a wide range of businesses, from start-ups through to global clients. He is the voice of the Digital Marketing Podcast, a worldwide top-ten business podcast in iTunes; Managing Director of TargetInternet.com; and an award-winning author for publisher Kogan Page (Mobile Marketing, 2013; Digital Branding, 2014; Building Digital Culture, 2017). Daniel's training and consultancy is backed up by many years of real-world experience of planning and implementing digital campaigns. Daniel prides himself on his practical and hands-on training content, and brings best practice from many years working for a broad range of international clients across the full range of digital marketing techniques. His career has covered both the technical and business aspects of digital marketing, meaning he is able to bridge the gap between the two and make best use of the tools and technology available.
About Target Internet
We have run thousands of training sessions for a wide range of global clients. This training has included fully customised blended programmes that incorporate skills audits and assessments, face-to-face training, elearning and ongoing content delivery. 
A selection of our clients include brands like Sony, Tesco, McKinsey, the BBC and many more. We have also worked with many smaller organisations via regional bodies such as Tourism South East and Visit Wales.
Target Internet also has extensive experience in helping organisations develop their marketing capability, and we understand the particular challenges faced by SMEs.
Before attending this event you will be invited to complete a Digital Skills Benchmark questionnaire. This 30 minute quiz will assess your knowledge and ability for each digital marketing discipline and shape your learning journey on the online platform. This isn't about trying to prove how much you know, but rather a set of questions that you either answer or skip, based on your current knowledge, so the platform can recommend the right content for you. The joining instructions to complete the benchmark will be sent to your email address. 
This event is organised and fully funded by Highlands and Islands Enterprise, the Scottish Government's economic and community development agency for the Highlands and Islands of Scotland. HIE work with private businesses and public and voluntary sector organisations to build sustainable economic growth across a diverse and beautiful region, from Shetland to Argyll and from the Outer Hebrides to Moray. We are committed to developing the Highlands and Islands as a competitive region which is home to strong communities, successful, high growth businesses and excellent quality of life.
HIE are committed to helping enterprises of all sectors and all sizes to make the most of digital technology in the way they operate and promote their business. Find out more at www.hie.co.uk
By signing up to this course you are authorising Highlands and Island Enterprise to share your registration details with Target Internet so that they can note attendance on the day. 
When
30 October 2017 09:30 - 13:00
Where
The Pickaquoy Centre - Kirkwall
Book Now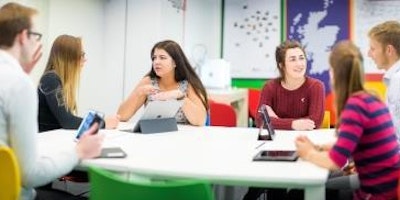 ---