20 February 2018
HIE Digital Masterclass: Community Engagement online (Kirkwall,
Orkney)
Price: Free
Community Engagement Using Online Channels:
These events are focussed on HIE account managed 'community' clients in the following categories:
Social Enterprises
Development Trusts / Community Associations
Community Projects and Community Groups

These events are ideal for projects that are in the early-stages of development, including project-planning, or pre-funding. They are also suitable for well-established projects looking to extend community engagement or improve sustainability.
Being visible and active on social media is an important and effective way of raising awareness of your project and organisation, communicating with stakeholders and being seen by potential investors and funders. This Masterclass will include a hands-on, interactive elements that will not only help you to make better use of the various social media platforms like Facebook, Twitter, Instagram and LinkedIn, but also how to manage them more effectively with limited resources.
Community Engagement using online channels
Review of best practice in community engagement and exemplars of where public engagement can be seen to be working well online
Online platforms community engagement - practical review of helpful features and tips
Strategies and best practice using online platforms for community engagement
Setting a strategy for use of online tools
What to do when it all goes wrong. Some case study examples.
Discussion: Share experience around the table, identify further needs for support.
Conclusions – summary of insights and reference to further sources and contacts
Delegates can attend either or both parts of the Masterclass.
Masterclass Presenter: Emma Gibb
Emma is an experienced trainer, consultant and content writer who has a love for social media, blogging and new technologies, and in recent years she has delivered many digital marketing campaigns, social media management and creative content for a variety of businesses and organisations, including the Association of Scottish Self Caterers, Greater Speyside, Gael Holiday Homes and Brodie Countryfare. She has an MA in English Literature and a background in English Language teaching.  Emma recently completed and was awarded the Professional Diploma in Digital Marketing (developed and certified by the Digital Marketing Institute).
When
20 February 2018 10:30 - 15:00
Where
Kirkwall and St Ola Community Centre - Orkney
Book Now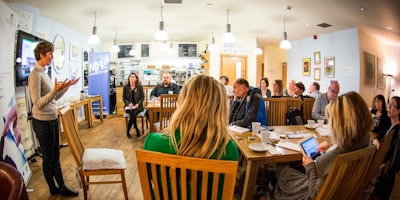 ---